Dynamic Pricing is not a new concept in the world of eCommerce. In fact, eCommerce businesses have been using it randomly as a part of their selling strategy for years.
The emergence of new tools and tech has made 2022 – the age of new commerce. Today, advanced eCommerce strategies paired with dynamic pricing & discount integrations are bringing high conversions and maximized profits for brands.
If you own an eCommerce business, you should seriously consider the dynamic pricing model for your platform as it has several benefits for your business.
Before you begin to figure out which pricing strategy works best for your business, let's have a look at: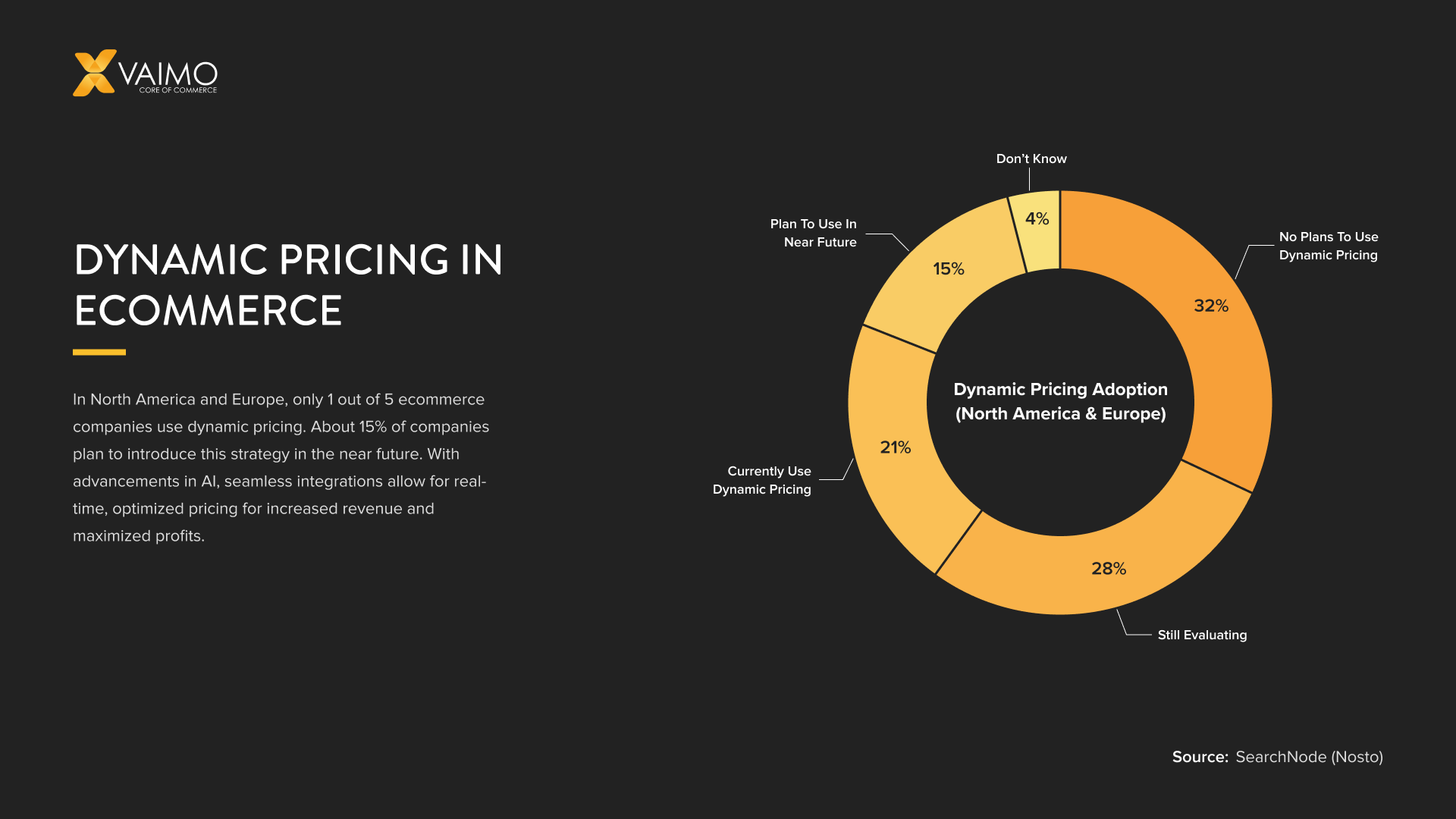 Source: https://www.vaimo.com/dynamic-pricing-in-ecommerce-how-it-works/
What is Dynamic Pricing & Discount Integration
Simply put, Dynamic Pricing is a pricing strategy wherein the product is being constantly re-priced (sometimes in a matter of minutes) depending upon factors like,
Real-time demand and supply
Website and consumer behavior
Inventory levels
Market trends
Competitor's pricing
At the core, the idea behind dynamic pricing is to capture the consumer's maximum willingness to pay for a product. Dynamic pricing integration uses AI to find a price point that satisfies the customer and maximizes your profitability.
Advantages Of Using Dynamic Pricing & Discounts In Ecommerce
To truly differentiate yourself from thousands of brands out there, you need to stand out. The right pricing strategy can always help.
Setting prices has always been a tricky business. If the prices are too low, it will hurt your profit margin. If the prices are too high, it will turn your customers away.
Dynamic pricing & discount strategies have created a lot of buzz in the past years since it has a lot of benefits. A few of them are listed here.
Source: https://competitoor.com/dynamic-pricing-how-works/
1. Maximize Profit Margins
Price fluctuations are very common in the e-commerce space.
Dynamic pricing tools can be used to track the competitor's pricing trends. Based on data, the price of a specific product can increase or decrease over a period of time. The idea at the core is to take advantage of the change in market trends to maximize profit without fearing the loss of market share.
2. Understanding Consumer Behavior
One of the most important benefits of Dynamic pricing is that it assists in gathering insights about consumer behavior. For example,
Which offers work the best for which section of consumers
What is the minimum & maximum willingness to pay
Types of discounts & promotions to use for profit maximization and meeting revenue goals
3. Automation saves time & cost
Implementing the right pricing strategy is key to beating the competition in B2B e-Commerce. It would be maddening to manually track the competitor's price, re-price thousands of SKUs, and keep up with market trends. However, that's not the case in 2022.
Automation saves the cost and time of performing these tasks manually.
Pricing software allows companies to prepare against threats and seize opportunities by analyzing data and modeling successful pricing patterns.
Want to learn how to implement Dynamic Pricing & Discounts, click here.
What To Look For In Dynamic Price & Discount Integrations
Having an advanced integration to implement dynamic prices and discounts will boost traffic and sales in the long run.
Here are a few features you can't miss while choosing a plugin for your business.
Conditional bulk discounts based on cart subtotal price, cart quantity, logged-in customer, specific customer, and customer roles
Category-wise Pricing Discount
Purchase History Pricing
Coupon-based Dynamic Discounts
Selecting the best plugin is imperative if you want to make your work easy and get excellent results. Plugins automate the whole process and make it all the more fun for you to meet your revenue goals.
24 Seven Commerce allows eCommerce businesses to easily integrate dynamic pricing and discount plugins. It provides real-time access to the inventory data and stock levels to facilitate the seamless working of this integration.